Book Launch | With The Safety Off by Graeme Feltham 🗓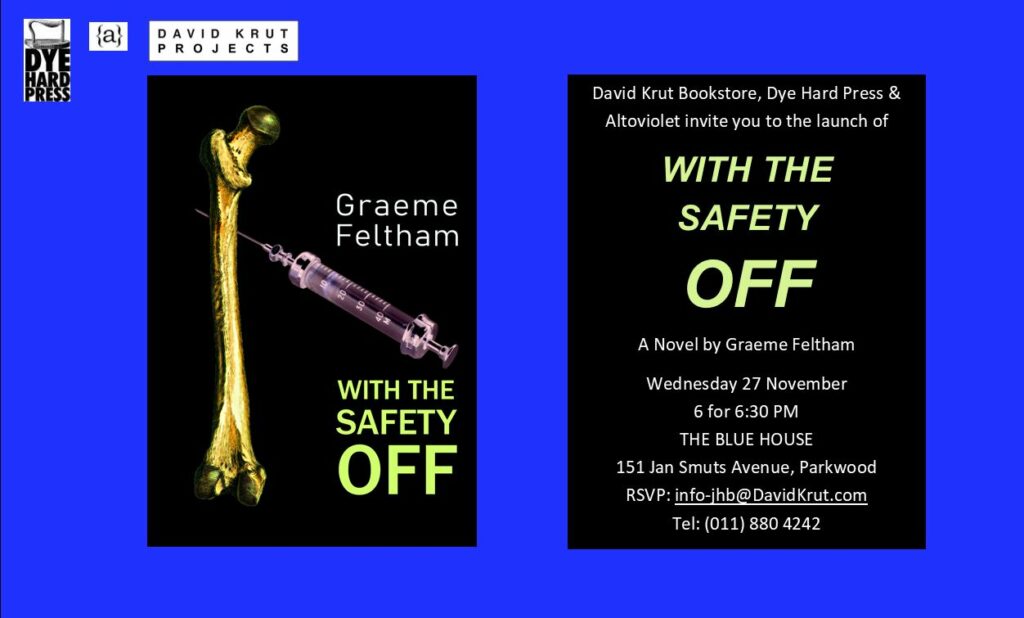 David Krut Bookstore is pleased to present:
Dye Hard Press in collaboration with Altoviolet as they launch With The Safety Off, a novel by Graeme Feltham.
Join us at THE BLUE HOUSE, 151 Jan Smuts Avenue, Parkwood, on Wednesday 27 November from 6 for 6.30 p.m., as we collaborate with Dye Hard Press in celebrating the life of the late Graeme Feltham by launching his book With the Safety Off.
About the novel:
It's Yeoville in the mid-1990s. Enter Fig, a copywriter with a penchant for living on the edge – staying up all night, having casual sex and snorting cocaine. Drifting from seedy clubs to grotty flats, Fig continues his aimless odyssey… until the day he falls asleep in a client presentation and is fired.
Nine months later Fig is hooked on heroin and turns to drug-dealing for survival. If his previous lifestyle skirted close to the danger zone, it's now gloves off as he drops all pretense of respectability and descends into a world of syndicates and violence. From now on, he's living with the safety off. A novel not for the faint-hearted…
With introductions by Graeme's son, Luke Feltham and artist and friend, James de Villiers. 220 pp.
About the author:
Graeme Feltham was born in 1965 and grew up in Uitenhage. He completed a degree in journalism at Rhodes University and moved to Johannesburg in the late 1980s. In addition to being a writer, he was an experimental composer and performance artist. His novella One Hundred Naked Beers was published by Brevitas in 2002. His work also appeared in literary journals such as New Coin and donga. Feltham died in December 2017.
With The Safety Off is currently available directly from Dye Hard Press at R220 by snail mail or R250 by courier. It will soon be available at selected bookstores. Available at a special discounted price at the evening of the launch! Don't miss out.
To order please contact Dye Hard Press at dyehardpress@iafrica.com.
About Dye Hard Press:
Dye Hard Press is a small publisher in Johannesburg, South Africa. Since 1994 it has published more than 20 titles, including work by Alan Finlay, Phillip Zhuwao, Arja Salafranca, Gus Ferguson, Kobus Moolman, Gail Dendy, Allan Kolski Horwitz, Khulile Nxumalo and Pravasan Pillay.