Coffee and Conversation with Ashraf Jamal + Zine And Independent Publication Workshop with Jared Aufrichtig 🗓 🗺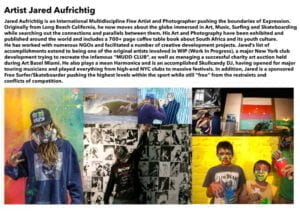 Join us on 15 September at 151 Jan Smuts Avenue for a Saturday morning coffee with Ashraf Jamal in conversation about his newly published book In the World – Essays about Contemporary South African Art.
The talk will be followed by a Zine and Independent Publication Workshop, presented by American South African artist Jared Aufrichtig, joined by Conrad Bo, Cale Waddacor, Neville Dube and Zhi Zulu.
The workshop will be fun and interactive with hands-on, DIY elements like a Jamie Reid punk style introduction to collage art and layout; as well as digital graphic design elements and powerpoint presentations. We will touch on various styles including photo book, comics, illustration and graphic design as well as poetry and fine art.
Workshop duration is 3-4 hours with a 20 min break and costs R250 all inclusive. Limited space available – book your spot here!
About the contributors
Ashraf Jamal is a cultural analyst, editor, and teacher in the media studies program at the Cape Peninsula University of Technology and a researcher at VIAD at the University of Johannesburg. He is the co-author of Art in South Africa: The Future Present and the co-editor of Indian Ocean Studies: Social, Cultural and Political Perspectives. He's also the author of Predicaments of culture in South Africa, 100 Good Ideas Celebrating 20 Years of Democracy, Love themes for the wilderness, the award-winning short fiction, The Shades, and, most recently, In the World: Essays on Contemporary South African art.
Jamal has delivered numerous public lectures and written and edited countless monographs on art. His edited volume on Robin Rhode to be published in 2018. Jamal lives in Cape Town with his youngest daughter, Mira Jaan.
Jared Aufrichtig is an international multidiscipline fine artist and photographer pushing the boundaries of expression. Originally from Long Beach California, he now moves about the globe immersed in art, music, surfing and skateboarding while searching out the connections and parallels between them. His art and photography have been exhibited and published around the world and includes a 700+ page coffee table book about South Africa and its youth culture.
He has worked with numerous NGOs and facilitates a number of creative development projects. Jared's list of accomplishments extend to being one of the original artists involved in WIP (Work In Progress), a major New York club development trying to recreate the infamous MUDD CLUB, as well as managing a successful charity art auction held during Art Basel Miami. He also plays a mean harmonica and is an accomplished Scullcandy DJ, having opened for major touring musicians and played everything from high-end NYC clubs to massive festivals.
In addition, Jared is a sponsored Free Surfer / Skateboarder pushing the highest levels within the sport while still free from the restraints and conflicts of competition.
Conrad Bo is an artist based in Johannesburg South Africa. He is the founder of two internationally known art movements, namely the Superstroke and Superblur Art Movements. The Superstroke Art movement was conceived by him as an idea in 2008. The reason for this was because of the impact that the art movement Superflat (conceived by Takashi Murakami) had on contemporary art. The basic idea was that Superflat produced art that was smooth and polished with little or no texture, and therefore Superstroke should produce art that is in a way the opposite of that.
Cale Waddacor is a creative from South Africa.
With a degree in film, he has a keen interest in the visual arts. He has an array of hobbies and interests, from music and photography to street art and urban exploration. In 2011, he launched the Graffiti South Africa website to document urban art in Africa. A book of the same name was published in late 2014 by Schiffer Books in the USA.
View his Behance portfolio for more creative work http://www.behance.net/calewaddacor/
Neville Dube is a 22-year-old Gonzo journalist and photographer. "Gonzo" is a style of journalism that draws inspiration from personal experiences and first-hand encounters. Neville has his fingers on the pulse of modern day art and lifestyle while remaining heavily rooted in political cynicism, satire and social justice issues.
His writing has appeared in publications like JustSunday Magazine and his very own online Magazine Blomfox Music which ran under major record label Muthaland / Ghettoruff. Neville has worked with artist like Jared Aufrichtig, Su Tomesan, and Jurgen Meekel on various mixed media projects; which include a coffee table book in the works, film for the Nelson Mandela Centenary adn a documentary on Johannesburg's micro economies titled Street.
Street is the last in a series of documentaries shot around the world by Dutch film artist Su Tomesen on commission from the Dutch government. Neville is currently working on his graphic novel and working as a head writer of the annual JustSunday coffee table book.
Zhi Zulu is a 23-year-old, Gold craft Loerie award-winning illustrator from the beautiful city of Johannesburg. She loves to tell stories through illustration and just completed a Bachelor of Arts (Hons) in Visual Communication at the Open Window Institute.
Zhi has worked previously as a graphic designer and illustrator. She is currently the sole-owner of a freelance illustration studio called Zuluvisual.
"I make work that eludes to the investigation of my culture. I am a proud Zulu and I enjoy making contemporary visual representations of what I understand is relevant to current society. I have a clear vision of what impact I want to make through my art. Aside from enticing others to discover the rich uniqueness of their own culture, my goal is to influence the education sector by integrating my culture-inspired illustrations with the visual methods of teaching literacy South Africa.
Blog | Events Events Johannesburg News Workshop
Jan Smuts Avenue, Johannesburg Ward 117, Rosebank, City of Johannesburg Metropolitan Municipality, Gauteng, 293, RSA
Map