Word Art at 151 | Young Voices : Mthabisi Sithole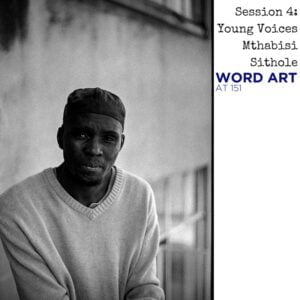 In my writing, I have always, consciously or otherwise, pushed to discuss the various capacities/measures to which time is occupied or recognised.  More recently, the implications of collecting the past, present and future through the voice of poetry have interested me with increasing urgency. At times, I write to applaud and at others to interrogate. Sometimes writing is an excuse to rebuke or pat myself in the act of existing. Neither here nor there, the instances from which every piece of poetry arises always seem to promote uncertainty more than anything else.
At the moment, one of my most persistent concerns is with how the English language can, if at all, be concientised to the realities of a non-Anglophone experience across all spheres of a modern day existence. I find the exercise of even writing in English to always be something of an interrogation; more than anything else, an interrogation of identity. Poetry that is linguistically imbedded in the arms of a domineering foreign tongue also brings me to question anyone else's control in the aforementioned interrogation of identity. I find that this "control" is ultimately ambiguous; its relevance (almost always) gaining when conversation turns to consider body politics.
My earliest memory of the English language is of half morning spent with my mother over my shoulder while I tried to write "Thank You so much".
I was 7 years old or so. Reflections on that instance are still strong triggers to my meditations around the politics of language. English still fails to carry the same sense of the world for me as isiNdebele or chiShona.
I have often considered my writing a search to find the same sense of worldliness in English as I find in African Languages. I now consider the overexposure of the English language an opportunity to take closer yet unassuming glances at the productivity of language and communication in the spaces I navigate daily. Poetry is part highly convenient reflex, part sardonic tilt of the head.