Artist Series E03 | Wilfed Ukpong Social Sculpture & the Third World
Oxford-based Nigerian artist and academic Wilfred Ukpong discusses the conceptual framework which underpins his multidisciplinary oeuvre of sculpture, films, performances and artworks.
Working on a dystopian Afro-futurist film set along the Niger Delta for seven years, Ukpong, trains and funds people from the rural community to work on his film and become artists in their own right. His stars in futurist gear are fishermen in another day, his set builders are ordinary people. The sense of creation and achievement has been an empowering presence in the area devastated by pollution and conflict.
The following podcast was created at the David Krut Projects, 142 Jan Smuts Avenue, Parkwood, Johannesburg.
Film still from "Future World" art film, 50 minutes, Niger-Delta
The Speakers:
Dr. Blaze, alias of Wilfred Ukpong
Dr. Blaze is a Nigerian-born multidisciplinary social practice artist and researcher who lives and works in Oxford, Paris and Lagos. The artist obtained his MFA with magna cum laude from Ecole Supérieure d'Art Lorient, France. Ukpong is currently undertaking practice-led enquiries in the framework of Social Practice Art and Experimental Fine Art.
Film Still from "Future World" art film 50 minutes, Niger-Delta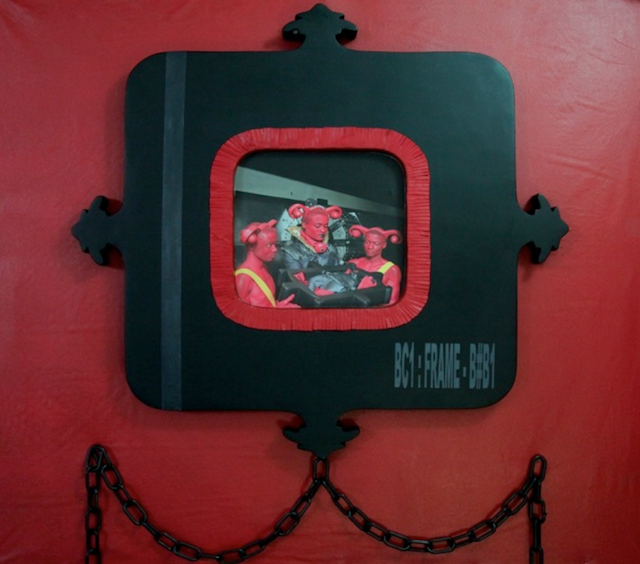 BC1: FRAME – B#B1, 120 x 120 cm, 2012- 2016, Mixed repurposed media including salvaged polystyrene, fiberglass, calcium carbonate, ink, acrylic and oil paint.